Everywhere you go, and everything you do usually involves some level of interaction with social media. Social media automation tools can help you post and keep track of all information posted and commented on your social media accounts.
Link them all together and have them post at the same time. Social media automation tools can help you and your business post content quickly and efficiently.
In this article, we have listed the top 12 social media automation tools available to you in 2020.
#1 – SocialPilot
Social Pilot gives your social media platforms a makeover by listing them on one single page. It provides you with an easy way to check with your team and work on campaigns.
It can support a maximum of 200 accounts and can share up to 500 posts.
SocialPilot is an excellent social media management tool for teams and agencies.
The company provides you with an easy way to work with your team and collaborate with other people. You can use the mass planner to schedule your content at one specific time.
It's easy to set up, quick to schedule content and has multiple options for keeping your social media streams populated.
The custom Facebook branding feature will enable you to configure your accounts easily. It also has a browser extension installed, that way you won't have to close out of the app.
It is an affordable alternative to some of the pricey team plans offered by other social media tools, but the lack of Instagram analytics is a real shame.
#2 – Mention
From social media to PR mentions, user reviews to blog comments, Mention helps leading brands track the most important conversations about their brand, competitors, and industry online.
With Mention, you will never miss a social media comment. Anytime anyone mentions your account or a specific keyword; you will get instantly notified on your dashboard.
This way, you can monitor your brand and use it to complete competitor analysis.
The interface is straightforward to navigate and can help you control your company's mentions with one click. The Mention can also help you identify different influencers and help you contact them.
You can monitor specific keywords at any and every time. If you need to, use the Mention to perform competitor analysis of other companies. This can help you stay one step ahead of them.
#3 – Sprout Social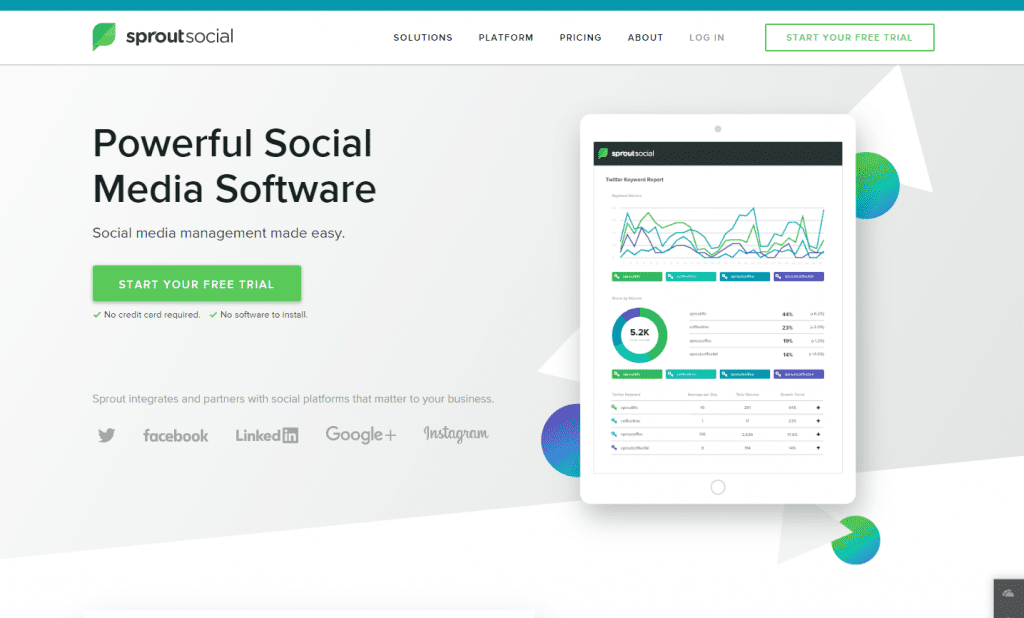 Sprout Social can help automate your content by either posting for you, work on your customer support, help engage your audience in more of your posts, and much more.
There are many social media platforms that don't use automated tools, but this one has distinctive features that can help you rise against your competitors. It features a user-friendly interface that can help post your content to your feeds by scheduling time.
There are other tools that you can use to help serve different purposes. You can track specific keywords and identify any influencers. It also has an inbuilt analytics search feature that can help calculate how many people you are reaching.
#4 – Pocket
Pocket enables you to install the application through Chrome extensions. You can use the lightweight tool to help monitor your accounts. It has 1,500+ platforms for major social media.
The tool can be used on either an Android or an iOS device; therefore, you can use it when you're away from your computer.
#5 – Scoop.it
Your content can be curated from other places on the web, and you can share your opinion. Your posts can be shared across all of your social media accounts, and you can look for trending topics by typing in keywords.
Use it to curate articles by using specific search parameters, use it with integrated WordPress and other websites. You can also use the smart content calendar to schedule when your accounts should post.
#6 – BuzzSumo
With BuzzSumo, you can monitor trending topics and post which mention your brand or company. Search for viral content by using the analytics tool. This can help notify you of what's trending, and what is related to your domain.
You can filter your results that way you only get information about your location, platform, or domain. It can track all social media platforms and can help you see the trends,  find influencers, and assist you to build your brand. It also has a question analyzer, content analyzer, a Facebook analyzer, and much more.
#7 – Socialert
Socialert is an automation tool, which can help you track hashtags, keywords, and phrases on a real-time basis. You can also collect user content, perform monitoring, and look for any of your company's influencers.
It can also assist you to quantify the reach of your brand and help you look at reviews of your content. You can filter the results based on either location, time, sentiments, and more. The tool can also provide you with a report that can be exported into a CSV file.
#8 – CoSchedule
With CoSchedule, you can quickly schedule your posts to be announced on all of your media platforms. You can manage multiple accounts with this tool. You can place 60 posts at a time and use their interactive interface to schedule your accounts.
Apart from this, you can analyze content and publish any of your previous material. It requires use of WordPress and manages your staff. This instrument can also help post customer support comments.
#9 – Crowdfire
Crowdfire is one of the most advanced automation tools for this year. It can help you find inactive accounts that way you can unfollow them.
You are able to analyze any other user or brand that you want. The curated post feature helps find your best content and share it amongst your accounts. The tool also automatically performs content posting and suggests the best time for you to get more views.
#10 – Buffer
Use Buffer to get a comprehensive analysis of you and other company's social media accounts. This tool will automatically upgrade on a regular basis, and you can choose a package to fit your own specific needs. It posts your content automatically and suggests the best time for you to post.
You can dedicate campaigns from the interface of the tool. Posts that have the same content can be customized to analyze them individually. The instrument is very user-friendly and easy to use.
#11 – Hootsuite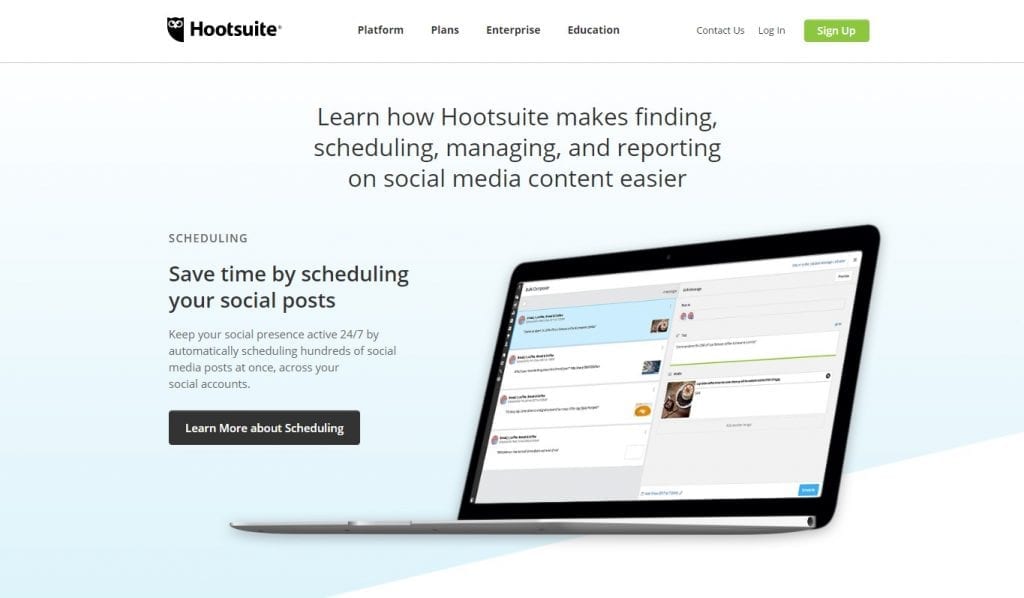 With the HootSuite tool, you can keep track of multiple social media accounts all at one time. You can perform brand monitoring and search for specific keywords and monitor how people are interacting with your brand and account.
HootSuite is one of the leading platforms when it comes to schedule when to post to social media platforms. The tool can help analyze the best times for you to get more views on your content. It has an advanced search which can let you filter through location, time, etc. You can check if your brand has been mentioned, reply, post, and monitor all of your social media accounts at once.
#12 – Agora Pulse
Agora Pulse allows you to post content across up to six different social media platforms. You can also collaborate with other people and your team through this tool. Use this instrument to engage with your audience and publish social media content according to your team's schedule.
You can't publish content on a recurring schedule and base the content on specific categories. This also comes with a smart analytics system where you can track your accounts.
#13 – MissingLettr
Missinglettr creates strategic, automated social media campaigns that drive traffic for an entire year. Leaving you to focus on what's really important.
Making your blog's content work harder by using smart social media automation. It is easy to set up and they offer a free 14-day trial which you will not want to cancel after you see what it does.
We are using Missinglettr for more than 3 years for our social media content distribution and have only good things to say about it.
#14 – Outreach.Buzz (Bonus)
Outreach.Buzz is a tool that helps people connect with bloggers and major publishing houses in order to publish and promote their content, increase their traffic, and reach the highest ranks in their niche. All this can be achieved with just a few clicks, saving 80% of your time.
The outreach tool that makes everything easier. 30+ niches, 3500+ sites, endless possibilities. The buzz is here! Are you ready to reach it?
Conclusion
All of these tools can be used to help save you time in the new year. Whether you're trying to just manage your accounts, if you are a small business or a larger company, all of these tools can give you a better way to manage all your social media accounts at one time.
Your time now! What's your favourite social media tool? Drop a comment and let us know.